About FarmWise
FarmWise offers hands-on, will-based learning through a year-round schedule of school group visits, weekend family programs, and summer farm school. In these programs, small groups of children are introduced to the values, lifestyle and work ethic of the farm, and learn to actively engage with the world around them. FarmWise was founded on the belief that a certain grounding "earth-intelligence" is fostered in our children (and us!) by collaborating with nature as is necessary on a farm.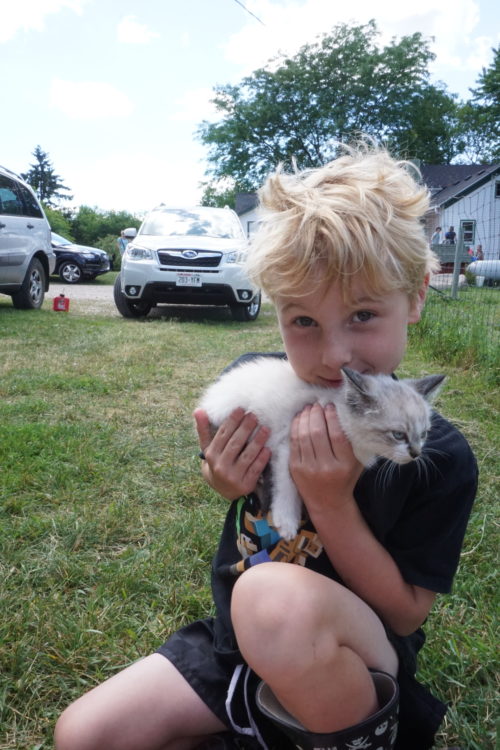 Hands-on learning
There are endless tasks on a farm. The animals must be tended daily: Carmel, the dairy cow is milked, eggs are gathered and the pigs are fed. Come haying time, the bales of fresh hay are stowed in the hayloft. Fruit trees must be pruned and the garden cultivated. We believe that children learn best by doing everything themselves. The children should not just watch as the work is done, this is an interactive place. Children who have gotten their hands in the work know that it is much more fun to try and wrestle a hay bale yourself, than to watch the grownups do it! It's about seeing the consequences of our honest work, be it planting seeds in the ground or feeding the pigs.
Always there is Music
Singing is an integral part of FarmWise education. For the five day sessions, we learn many songs from around the world and learn how these songs both tell stories and lift the spirit. People have always used song to lift themselves up during hard times, to make work lighter, and simply for the joy of song.  
About the Founder
Bente Goldstein and her husband Walter have lived on their 35 acre hobby farm for over twenty years, long enough to raise three sons. It is a pearl of a place located in the rolling hills in southeastern Wisconsin. Apricot trees bloom in the spring, the sheep graze in the pastoral sunset, crickets chirp near the pond.
Bente is originally from Norway. She spent a few summers of her childhood milking cows in the countryside. She went on to meet her husband, an American, in Europe as they both had a passion for sustainable farming. They moved to America together. Bente has worked in Waldorf Schools for many years, before becoming interested in farm education. Walter is currently a researcher working on organic seed development. He runs a non-profit, Mandaamin Institute, that is developing high nutritional value, non-GMO corn. 
When their boys had grown into men (and moved all over the world to work as classical musicians), they realized that their farm could be shared with more children than their own. Before founding FarmWise, she and veternarian Dana Burns ran similar program called "A Week on the Farm".  Bente has come to the conclusion that children need to develop their wills to work for more than themselves and engage with the environment around them. By being on the farm they are able to develop these skills.
"And besides, it is exceedingly exciting!" -Bente Goldstein